The GoFax® app
for Fax & SMS
Download the free GoFax® app today for mobile, tablet and desktop. Compatible across Windows, Mac, Android & iOS. A fast, secure and convenient way to send and receive fax and SMS from anywhere, direct from the app.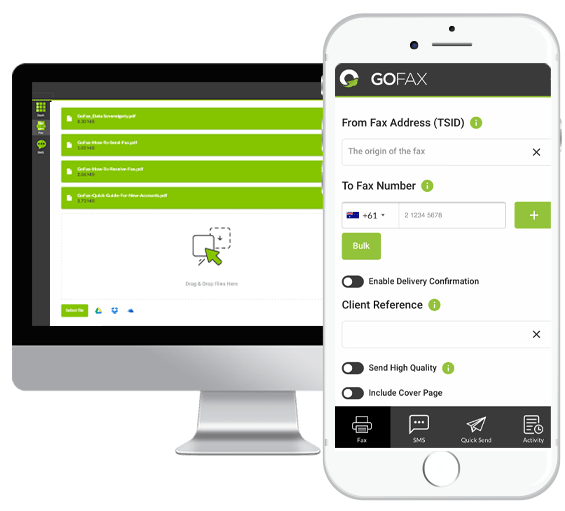 How to get started with the GoFax app
Setting up is easy. Simply use your existing GoFax® account login, or get started today by signing up for a new account and activating the fax and SMS services you'd like to use.

Download the GoFax progressive web app to your mobile, desktop or tablet.

Login to the GoFax® app using your GoFax email address or account username and password.

Start sending and receiving fax and SMS instantly using the GoFax® app from mobile, tablet or desktop.
Would you like to trial the GoFax app for your organisation?



Quick Send
Intuitive dashboard makes it easy for anyone to quickly send fax or SMS using the app.
Manage Inbox & Outbox
View sent and received activity with options to download or print direct from the app.
Multiple Recipients
Send to multiple numbers for fax or SMS.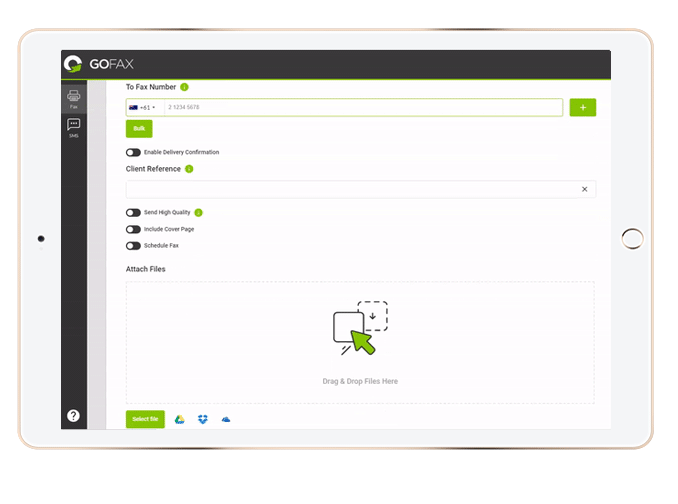 International Coverage
Options to send fax and SMS internationally across our global carrier network.
Cover Sheets
Add cover sheets to faxes with built-in cover sheet option.
Fax Campaign Scheduling
Set the desired date and time for future fax campaigns.
Flexible & transparent – our customer first promise

Multi-Purpose Credits
Use your account balance to send fax or SMS.

Free to Download
No cost to download or get setup across devices.

No Contracts
Cancel at any time, with no lock-in contracts.
Ready to start using the GoFax app for your organisation?